Our Supporters and Past Gifts
We are thankful for all of our donors and supporters who help our library and community thrive. Every gift is making a real difference in the lives of so many people. And, this support has been a sustaining feature of many of the important programs and services we provide.
Meet some of our supporters
We are continually inspired by your dedication and generosity, and it is a pleasure to strengthen the community together:
Young Canada Works
Meet Jay – Guelph Public Library's newest Tech Bar Assistant. Jay will be with us throughout the winter, thanks to funding from the Young Canada Works program. Jay will be responsible for lending a hand at GPL's Tech Bar and assisting library users with all things technology. Guelph Public Library thanks Young Canada Works for their continued support and partnership.
We proudly acknowledge the financial support of the Government of Canada and the Young Canada Works Program for this project.
Peri
Meet Peri – this fabulous youngster recently turned 6 years old on February 14th. To celebrate her Birthday, she asked guests to bring 2 Toonies each – and donated half of the money received to the charity of her choice – Guelph Public Library. Peri wanted to the help the library because she really likes the library and books, and also to remember her Nana who loved the library too. Peri's generous gift will go towards the Rosa Rattray Early Literacy Fund – helping other kids foster a love of reading and learning!
Thank you for Peri for including the library in your special day!
The Sifton Family Foundation
Guelph Public Library would like to thank the Sifton Family Foundation for their generous support, which has funded the purchase of new accessible equipment for individuals with vision difficulties.This project will help meet community demand for these important resources - providing crucial community-wide access to lifelong learning opportunities and the wealth of resources available at GPL for those who experience vision impairments, regardless of socioeconomic status or ability. Through this partnership with The Sifton Family Foundation, individuals experiencing minimal vision loss as well as those who are blind can enjoy enhanced opportunities to connect with critical resources, other people, and the community - fostering increased independence and quality of life.
Check out the new accessible equipment available.
Peter and Alison
When asked 'Why Libraries Matter' to them, Alison and Peter have many answers. "The Guelph Public Library is important, not just to us personally, but to the community at large," says Alison - from offering access to technology and its user-friendly website, to the variety of programs and services available for everyone. "Though we don't use them ourselves, we like the computers that are there for anyone to use! Every time we're in the main branch every one is in use. We also like the fact that there are branches all over town, better to serve the community. We like all the programs for children. You can hardly find a place in the parking lot when one of these programs is running. All the staff are friendly and efficient. I recently overheard a conversation between a staff member at the front desk and what were obviously new immigrants. She was so helpful, and not at all irritated by their lack of English." Alison and Peter are long-time, generous donors to Guelph Public Library's Annual Campaign because they believe in investing in our community. "It is an indisputable fact that more citizens of Guelph use the library than any other city facility - and that includes hockey rinks!"
Learn how you can join the annual campaign today!
Young Canada Works
A long-term partner of Guelph Public Library, Young Canada Works continues to provide vital funding to create summer employment opportunities for students interested in careers in heritage organizations. This support has allowed GPL to hire summer students to help with important Archive Digitization tasks and Technology support. The program will also provide Intern support in our Archives later this year. We thank The Young Canada Works program for their continued support providing meaningful career building employment for youth, while helping to provide additional staff to complete worthwhile community projects.
Symposium
In honour of the 20th Anniversary of Symposium, the Guelph Restaurant generously donated $250 to Guelph Public Library to help celebrate Canada's upcoming 150th anniversary of Confederation. "We are a proudly Canadian company, and with both anniversaries approaching, we wanted to give back to the community. We thought what better way than to partner with the library and provide further opportunities for our community to celebrate this milestone with the addition of new Canadian junior books for the library's collection." Thank you Symposium Restaurant and Café for helping to promote literacy and encouraging our community to celebrate Canada's 150th!
Ontario Libraries Capacity Fund (OLCF)
Thanks to the support of the Ontario Libraries Capacity Fund, our library is now equipped with new wireless upgrades. OLCF continues to be a vital source of support to our system, helping to fund important projects and upgrades.
The Rattray Family
In fall 2016, the Rattray family lost Rosa - a wife, mother, grandmother, great-grandmother, and friend who instilled a love of reading and learning in her entire family and those she loved.
In memory of Rosa, the Rattray Family generously created the 'Rosa Rattray Early Literacy Fund' which supports early literacy initiatives at the Guelph Public Library, providing materials, equipment, and resources to encourage young minds in our community to learn to read, and develop a love of lifelong learning. By the age of 11, Rosa had read all of the books in the Junior collection of her local library, so was given an adult library card! Upon arriving in Guelph in 1965, she immediately joined Guelph Public Library where her love of learning continued to flourish. As she raised her family, she continued to share this passion with those she loved, establishing building blocks for lifelong learning.
Thanks to the family's initial gift, two additional Early Literacy Stations (ELS) were purchased for our Scottsdale and East Side branch locations. These stations offer a wealth of award-winning educational opportunities in each curriculum area carefully chosen for age appropriateness, educational value, replay interest, ease of use, and enjoyment. To date, ELS have provided over 100 million hours of learning time for children and young minds around the world, and at the Guelph Public Library, they provide tens of thousands of learning hours each year.
Learn how you can support the Rosa Rattray Early Literacy Fund
Guelph Community Foundation (GCF)
The Guelph Community Foundation continues to be an amazing community partner to our library. This year, with the help of Community Foundations of Canada, GCF generously provided funding to equip our new and improved Bookmobile with mobile technologies - allowing us to provide Canadian-themed technology outreach programs as we celebrate Canada's 150th Anniversary of Confederation.
Youth Internship Program
Through the support of the Youth Internship Program, Guelph Public Library was able to hire a Technology Intern. Serving as a valuable member of GPL's Information and Technology (IT) Department, the student provided important front-line technological assistance and training to library users, assisted in technology-based programming, and helped to further establish GPL technology platforms and parameters. This partnership provided meaningful skill-building experience for the youth intern, and facilitated our ability to generate the social, educational, and economic benefits associated with the expanded use of digital technologies within our community.
Bella
In celebration of her 8th Birthday, Bella generously raised funds to purchase new Robert Munsch books at the Guelph Public Library. When asked why she chose to be so selfless on her special day, Bella shared, "I hope this can help with the Robert Munsch books so everyone can read the books that I love."
Thanks so much Bella!
Canada 150 Fund
Guelph Public Library thanks the Canada 150 Fund for their generous support of GPL's 'Stories of our Citizens - Celebrating Canada's 150th at Guelph Public Library' project. This initiative helped to bring our community together to celebrate Canada's 150th anniversary of Confederation, enabling the creation of a video project examining and celebrating our city and country's past, present.
Our Stories project manager, Andrew Goodwin, shares ""Guelph is full of people who have fascinating stories, and is also home to many story-tellers. We've been fortunate enough to have this opportunity to connect a small sampling of these two groups and are excited to share eight short-films that tell a few Guelph stories, a few of Our Stories." We would like to thank the filmmakers who helped with this project, as well as those who shared their stories, including Adwoa Badoe, Elia Morrison, Sleeman Brewery, Phil Maurion, Mayor Cam Guthrie, Dave Horst, Jim Estill, Sandy Clipsham, Pearl, Nicholas Brown, William Winegard, Andrew Goodwin, Dominique O'Rourke and the Francophone community, Erin MacIndoe Sproule, Thomas King, and Angus McLellan. Funding also enabled a celebratory community 150 Block Party where the video project was unveiled, an event which featured Aboriginal drumming presented by the Indigenous Learning Circle Guelph, carnival games, and various tech activities.
We proudly acknowledge the financial support of the Government of Canada (Nous reconnaissons l'appui financier du gouverement du Canada) with this project.
Dr. Bland
Dr. Bland held the library close to his heart, and chose to make a special gift to the Guelph Public Library in his will. His son John shares his father's story, "The gift was in recognition and appreciation of the tremendous support and sense of community which the library staff had always provided for him. After Dad retired, he would visit the library every Saturday morning. The staff began to know his tastes in reading, and would have a selection of books on hand which they thought that he might appreciate. This became especially significant and important later as his eyesight degenerated; he became legally blind, and was unable to locate books on his own. The staff would deliver a selection of half a dozen to a dozen audio books for him, and he would keep a list for staff of those which he had already heard. As his physical health degenerated, he spent increasing amounts of his time listening to his audio books, and this service became increasingly meaningful for him." Dad desired to "give back with gratitude some of what he received." - John
Learn how you can make a planned gift to the library
Mike
"My grandmother Kathleen has always had a love of books. For as long as I can remember, any visit I had with her I would see a book on the coffee table that she was in the middle of. She really liked historical non-fiction books describing cultures such as the ancient Greeks or the people of ancient China. Along with her love of books, she enjoyed sharing what she learned with anyone who visited. This was truly one of her passions. Not wanting to spend a lot of money, she would get most of her books through the library. Once she became less mobile, she relied on Guelph Public Library's Bookmobile to deliver her favourites to her senior center. Now, with her eyesight failing, she has still not given up books - she enjoys audio books instead! A wonderful library volunteer personally selects audio books that she thinks my grandmother will enjoy and brings them to her room. To help celebrate my nana's birthday this year, my wife and I made a gift in her honour to the library. We hope that the donation will help others begin and continue their passions for reading!" -Mike
Make your own Gift in Honour today
Charles
Charles is nine and loves to play sports. On his birthday, he chose to help give back to the community by supporting the Guelph Public Library. Charles says the best part of his birthday this year was having fun with his friends, and he chose to be a Library Hero and support Guelph Public Library because, "It's a nice place to hang out and to read a book. Also Guelph Public Library has a great atmosphere." - Charles
Kelly and Steven
For Kelly and Steven, "The library has been there for so many uses for my family and I throughout the years - borrowing children's books and attending story time with our kids when they were young, to now adult reading and borrowing books, eBooks, and stories on CD. I am also a member of a Book Club." Their family chooses to support Guelph Public Library because of the large community impact the library provides and the possibilities their gift can bring to other individuals and families in the community no matter their stage in life. "The library makes books, technologies, and resources accessible for everyone in the community and I feel like that is very important. Every time I am in the library, I see so many people using books and technologies, all of which would be very expensive to buy. As a result, I feel that my annual donation to Guelph Public Library is very effective - helping to ensure these services for everyone." -Kelly
Alex
Alex is an avid researcher and champion of Guelph Public Library's efforts to fundraise for a new Microfilm Reader - aneed which became apparent to him during some initial research which has led to a multi-year journey discovering his roots and the role his family played in Guelph's identity. Alex began his research at Guelph Public Library, using microfilm resources - a search which uncovered a surprising amount of knowledge about his family. Learning that his great grandfather was Alexander Bain Petrie, "the more information we uncovered, we began to see that this man was an important part of Guelph's history, which for the most part had gone unnoticed." Alex has since written the biography of his great grandfather Alexander, created the A.B. Petrie Heritage Education Trust Inc., and is now working to complete a 3D replica of the historic Petrie building for an upcoming exhibit at the Guelph Civic Museum. Alex's work has reinforced for him the need for additional modern microfilm equipment at Guelph Public Library to enable users to preserve and share Guelph's history and heritage, and uncover its many hiddenstories, ensuring that they are not forgotten. "When a fund raising campaign to purchase a new reader was announced, I had to act." -Alex
Hitachi Construction Truck Manufacturing Ltd.
Guelph Public Library's services are possible with the help of many community supporters, including Hitachi Construction Truck Manufacturing Ltd. The Hitachi Employee Social Committee has generously chosen the Guelph Public Library as a yearly recipient of a donation on behalf of their employees. This yearly gift has been instrumental in helping us to provide increased access to the resources, technologies, programs, and lifelong learning opportunities desired by our community. Hitachi's involvement with the community - and our library - is greatly appreciated.
Maeve
Maeve became a Guelph Public Library Library Hero who's making a difference in our community when she celebrated her ninth Birthday! Maeve selflessly chose to support the Guelph Public Library because she thinks reading is fun and "I want everyone else to be able to read too!" Thanks to Maeve's help, more people can explore, connect, and thrive at the library. Her favourite hobbies are art, playing the violin, and highland dance - and the best part of her birthday this year was "knowing that I donated money to the Guelph Public Library and making tie-dye shirts my friends!" - Maeve
Rotary Club of Guelph-Trillium
Guelph Public Library relies on the support of many local organizations who make it possible for our community to connect, explore, and thrive. The Rotary Club of Guelph-Trillium Community has been instrumental in our efforts to raise funds for a new microfilm reader. New equipment which will ease the research process for authors, researchers, and others in the community. Guelph Public Library is truly grateful for the Rotary Club of Guelph Trillium's continued generosity, partnership and support to make Guelph a better place.
Fred
"As a founding member, former Chair, and now Professor Emeritus in the Dept. of Geography at the University of Guelph, I am a proud supporter of the Guelph Public Library. Since 1966, I have spent many hours conducting research at Guelph Public Library with friendly assistance from numerous helpful staff. Their cooperation has enabled me to discover important information and has contributed to many academic papers and popular books about small towns in Canada. I now take advantage of the library's excellent online catalogue to select books and order them for pick-up. The Guelph Public Library is an extremely valuable resource and should be replaced with a new, modern facility as soon as possible. I have supported Guelph Public Library with copies of my publications and cash donations during the last few years to Guelph Public Library's Annual Campaign." - Fred
Join our Annual Campaign today
Caleb
Caleb loves riding his bike, collecting Pokemon cards, and earning Cub Scout badges. He became a Guelph Public Library Library Hero who's making a difference in our community when he celebrated his eighth birthday. Thanks to Caleb's help, the Guelph Public Library raised important funds for the library, and he also got a brand new laptop! Caleb says, "I wanted to support the Guelph Public Library because I use it a lot and it's very useful to me." - Caleb
Guelph Newcomers' Book Club
The 'Guelph Newcomers' Club' welcomes women who are new to the Guelph area, acquainting them with their new city and promoting friendship among members. The group connects with others and the community, and members enjoy a variety of activities - one of which is a Book Club that has been running for many years. "We started small. With just a few members, we were able to access the Guelph Public Library for our reading requests, or borrow from each other. However, over the years, our group has grown enormously (two groups of 15 each) and we are so very grateful that the library now has a growing collection of book club sets. This enables each group member to read the same book at the same time." Throughout the years, the members of the Guelph Newcomers' Book Club have remained enthusiastic supporters of the library - generously donating funds towards the its book club services. "We felt that the least we could do to show our support and appreciation, is to donate in order to purchase new book sets...and keep our reading passion fulfilled." - Lyn
Learn how you can support our book club services
The Oak Tree Project
Guelph Public Library thrives through its partnerships with community organizations and was thrilled to be a part of The 2016 Oak Tree Project. Sponsored by The Mactaggart Team, The Oak Tree Project strengthens the roots of our community by supporting the core operations of local charities - giving them the strength to do more good for the community. Thanks to the generosity of The Mactaggart Team, The Oak Tree Project has provided vital support to our library and we cannot thank you enough for being nominated to participate.
Pete Karreman's Omni Basement Systems
As someone who spent countless hours in the library during his University days, Pete realizes their importance to communities. "In a day and age where everything is constantly changing, public libraries are an old bastion that hasn't changed. They are place for information, literature, technology, culture, innovation - and place to go for just about anything! Communities will always need libraries." Thanks to Pete, Omni Basement System's generosity is shaping the lives of kids, families, and adults across the community - including the many who use our library to connect to books, resources, activities, and friends, and use our services to improve, enrich, and transform their lives. Guelph Public Library thanks Pete for his generosity, and looks forward to a continued partnership with Omni Basement Systems. - Pete
Danika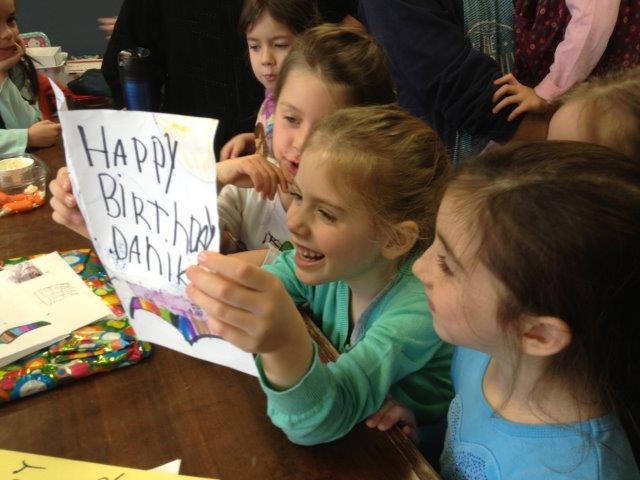 Danika's favourite hobbies are reading and colouring. For her sixth birthday she chose to be a Library Hero and help support the Guelph Public Library! Danika likes the library because it is near her home, and the best part of her birthday was "opening birthday presents." - Danika
W. Bellamy
"Growing up poor, in a once famous, steel-making city in northern England, I was fortunate to live within walking distance of a wonderful public library. When I first began making frequent visits to Sheffield library, I saw before me myriads of books, index card systems, and tables with accompanying chairs for those wishing to browse or study. Back then, my choice of reading was the classics and fiction. Later, I drifted more into factual books and biographies. Along the way, I married, started a family and we immigrated to Canada in 1964. Since then, we have lived in a number of different places and countries. We came to Guelph in the early seventies and after a brief absence returned again in the eighties to the present time. Guelph Public Library, is very much a part of my life. Libraries have changed a lot since my first encounters with them. They are leaping into the future and offering 'free access' to not only books, which will always be relevant in my humble opinion, but also to advanced technological equipment and resources. I can hear you saying, 'there is no free lunch, we pay high taxes for all our community services'. True but, the taxes we pay, at whatever level of government, are now being spread so very thin. This is why individuals in local communities, when they feel there is a need to support causes which they care about, should be asking, 'How can I help'? We are very fortunate in Guelph to have a very charitable community. Without private, monetary gifts to the library, some of the equipment that you see there and have come to expect would not have been purchased. My husband, during his sojourn here on earth, was a speed reader with a photographic memory. He devoured books and the knowledge to be gleaned from them. Whenever he suggested the purchase of a particular book, the library nearly always agreed to acquire it. Now, because of budgetary confinements, the library has to very carefully consider all purchases. My financial support for Guelph Public Library was prompted by their 'free' online access to genealogical websites, specifically Ancestry.com. Some years ago, I was a paid up member of Ancestry.com which is an excellent site for researching family histories. I had more or less completed most of my personal research, when the company changed its method of payment and made it impossible for me to renew my membership. I continued my research via other free websites. About two years ago, I learned of the genealogy resources being offered by Guelph Public Library which I now utilize and much appreciate. Since then, I have enthusiastically supported the Guelph Public Library in order to help ensure such resources remain available for critical public use." -W. Bellamy